Weather system not available for this site.
Sell Your Home Here
There is only one way to put your home listing here, on the home page of universitycity365.com, and that is to list with George Sykes, Broker, Worth Clark Realty. Text 618-531-4000 to find out how.
Current Residential Home Inventory for University City, MO
Total Market Value:
$12,498,200
Highest Priced:
$1,195,000
*Note homes under contract are not counted.
Highest Priced Home
Brokered by: Janet McAfee Inc.
$1,195,000
Lowest Priced Home
Brokered by: Realty Exchange
$45,800
The Biggest Issue Facing Housing Next Year in Cities like University City, Missouri
posted by: George Sykes | Broker/Realtor Worth Clark Realty | Wednesday December 18, 2019
This coming year the housing market will be defined by 3 things- inventory, interest rates, and appreciation. But the biggest issue the housing market will face in 2020 is an inventory shortage. There aren't enough homes on the market for buyers, especially on the lower end of the market. This is a topic that has come up frequently within the past several months.

Based on what is forecasted, we know that interest rates are projected to remain low and that appreciation is expected to continue as we move into 2020. Additionally, the upcoming election will provoke many unique perspectives on the health of the US housing market. The challenge will be understanding what is actually happening and how you can best position yourself if you are thinking of buying or selling your home.
Here are several perspectives to consider on the inventory issue facing housing next year:
According to realtor.com:
"Despite increases in new construction, next year will once again fail to bring a solution to the inventory shortage that has plagued the housing market since 2015. Inventory could reach a historic low as a steady flow of demand, especially for entry level homes, and declining seller sentiment combine to keep a lid on sales transactions."

Diana Olick at CNBC:
"Inventory has been falling annually for five straight months, after it recovered slightly toward the end of last year, due to a spike in mortgage rates. Rates began falling again by spring of this year. Homebuilders have been increasing production slowly, but it's not enough to meet the increasingly strong demand."

George Ratiu, Senior Economist with realtor.com
"As millennials — the largest cohort of buyers in U.S. history — embrace homeownership and take advantage of this year's unexpectedly low mortgage rates, demand is outstripping supply, causing inventory to vanish. The housing shortage is felt acutely at the entry-level of the market, where most millennials are looking to break into the market for their first home."
Homes Across the Country are Selling Fast
posted by: George Sykes | Broker/Realtor Worth Clark Realty | Tuesday October 22, 2019
Some Highlights:
The National Association of REALTORS® surveyed their members for the release of their Confidence Index.
The REALTORS® Confidence Index is a key indicator of housing market strength based on a monthly survey sent to over 50,000 real estate practitioners. Practitioners are asked about their expectations for home sales, prices, and market conditions.
Homes across the country are selling quickly, in an average of just 31 days.
49% of homes sold in less than a month.
Remember
Wednesday September 11, 2019
"What separates us from the animals, what separates us from the chaos, is our ability to mourn people we've never met." —David Levithan, Love is the Higher Law
A Recession Does Not Equal a Housing Crisis
posted by: George Sykes, Broker, Worth Clark Realty | Tuesday September 10, 2019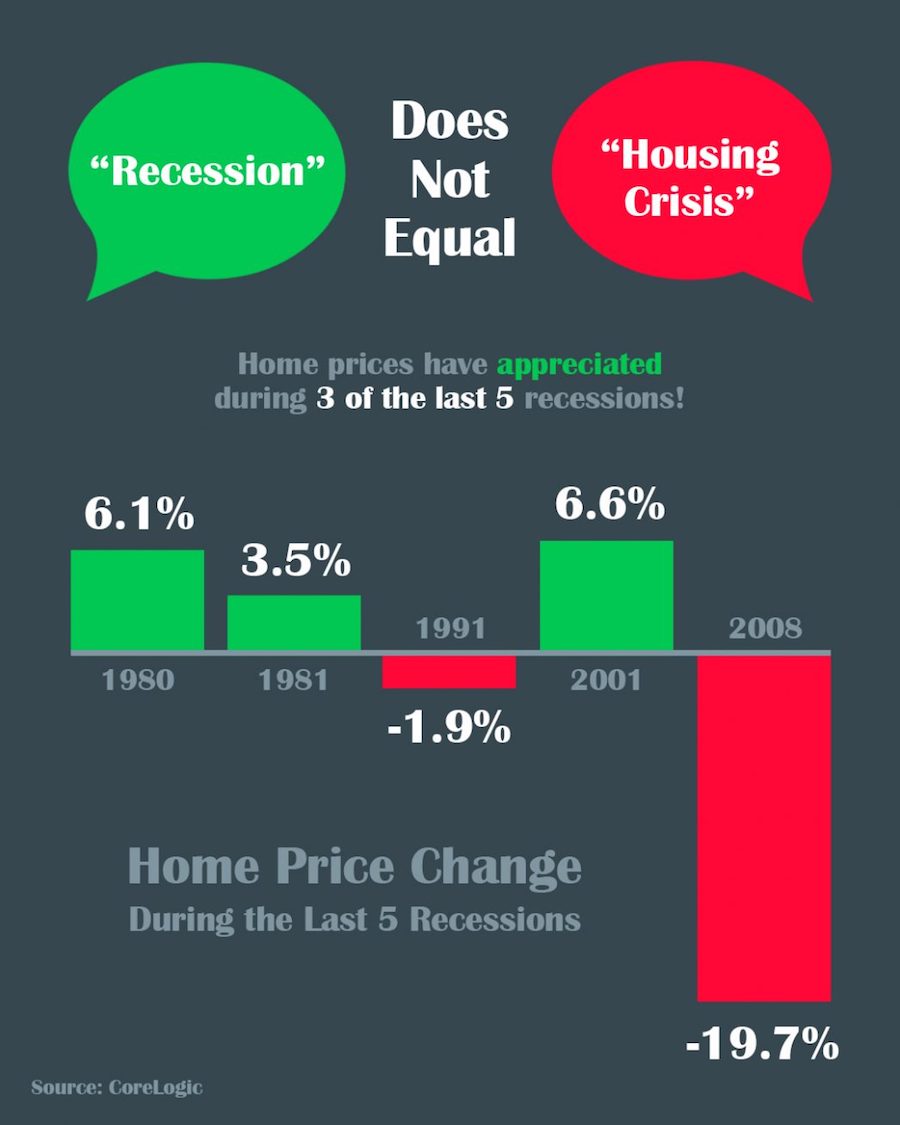 Some Highlights
There is plenty of talk in the media about a pending economic slowdown.
The good news is, home values actually increased in 3 of the last 5 U.S. recessions, and decreased by less than 2% in the 4th.
Many experts predict a potential recession is on the horizon. However, housing will not be the trigger, and home values will still continue to
appreciate. It will not be a repeat of the crash in the 2008 housing market.
Wondering when to list a home in University City?
posted by: George Sykes, Broker, Worth Clark Realty | Tuesday June 11, 2019
I have always heard it was best to purchase a car on the last day of the month because reps and dealerships are trying to hit their numbers. And I do know that Real Estate transactions pick up speed going into the summer, but not sure I have ever thought about the absoute best days to list. ATTOM Data Solutions took a look. Here is what we found:
Own a home in University City: How Homeownership Delivers Unsurpassed Family Wealth
posted by: George Sykes, Broker, Worth Clark Realty | Wednesday June 5, 2019
---
There are many financial benefits to homeownership, but probably none more important than its ability to create family wealth. How Housing Matters is a joint project of the Urban Land Institute and the MacArthur Foundation. It is an online resource for research and information on how homeownership contributes to individual and community success.
Their article, The First Rung on the Ladder to Economic Opportunity Is Housing, explains the importance of homeownership to a family's financial health. In that article, they simply stated:
"The ladder to economic success can stretch only so high without the asset-building power of homeownership."
Later in life, this wealth is crucial…
Search Tool is Always On
posted by: George Sykes | June 4, 2019
---
Local Search is built into every page of universitycity365.com . The search bar is located top and center of this page. As you type, possible search matches begin to appear. You should see local businesses, business categories and products and services. Try it out.
Nothing matters but the weekend
... from a Tuesday point of view.
Welcome Back universitycity365.com | June 4, 2019
New
universitycity365.com

is active.
posted by: George Sykes | June 4, 2019
---
Update: Success. As of June 3, the new site is active.
New features will continue to be added over the next week. Enjoy.
It's time.
Time for a reboot.

Time for a true Local Search Engine.

Time for a website that aligns with the community.

Welcome home to universitycity365.com
created by wildfire internet